Valentine's Day Special!
Although people may argue that Valentine's day is no more than a businessmen's trick to get you spend hundreds of dollars on gifts, showing your loved one that you truly put thoughts into celebrating the time you've been together is real.
Choosing a gift can become your worst nightmares, and Time has compiled a list of best 10 gifts for this Valentine's day, ranging from Amazon Kindles, wine charm, to Funzo's popular collections; however, instead of giving each other an object that they would use in life, why not consider creating a gift out of your lives together? Experiences may not last forever, but memory will.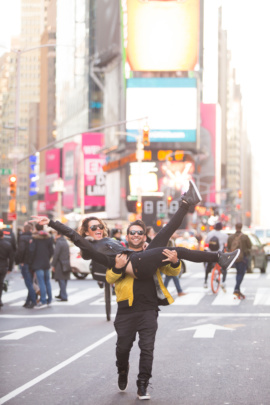 No matter what stage your relationship is at, having a trip together certainly helps bringing you and your partner closer. Even if you have no valentine, this day can be a good chance to spend some time with your family. Family can also be the love of your life, right?
Enjoy an intimate time together touring around the city while a professional photographer capture the best moments by booking one of our New York City photo and tours today with the code: "HappyValentine"! Our local photographers know the best places to go for your limited amount of time. Come celebrate this day of love with us!