Advantages of eloping in New York City
Elopement is definitely a trend right now. We can see more and more celebrities elope outside of the country or low-key in a courthouse out of town. Why? Instead of splurging a 6-digit cost on fancy venue, dress, and having hundreds of friends around, these couples chose to keep their big moment 'intimate.'
Isn't combining a trip, or honeymoon, with the wedding itself smart? Exploring the world together is one of the commitments a couple made to each other, and elopement could be a great chance to start realizing the promises right away.
New York City is a well-known travel spot, but do you know it is also great for elopement? Why is NYC a perfect place to tie the knot with your loved one? Here are some reasons:
1. Simply a city that you have to visit once in a life-time.
Time square ball drop, The Statute of Liberty, World Trade Center, Rockefeller Center, Central Park…etc. are only a small portion of the world-famous spots you have seen in movies or commercials. No matter financially, historically, or culturally, New York City has continued to draw people to its doorstep. If you have only one chance of getting eloped, this should be your first choice!
2. Four seasons, many different perspectives
There is no a perfect season to visit NYC. When spring approaches, you can feel the joy in the air — from people walking down the street with heavy coat on their hands, fresh green leaves popping out from the tree, to fresh, bright-colored window displays — followed by lively summer, romantic fall, and a snowflakes decorated winter. Every season in NYC has its own charm, meaning whatever season you visit, sceneries and various activities in the Big Apple won't let you down.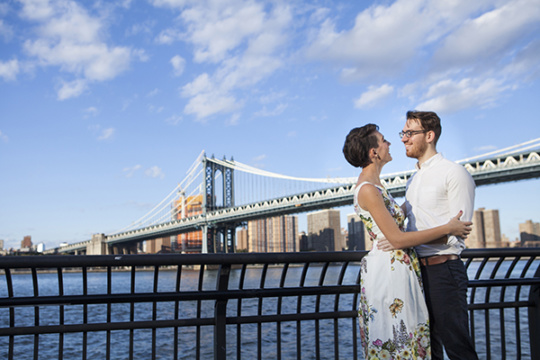 3. Nature v.s. concrete
NYC has a well balanced nature and civilized lives. You can enjoy the most peaceful morning walk in central park, with squirrels chasing nuts on massive meadow, while glancing 5 states on top of the Empire State Building in the afternoon. It is one of the best places to get various styles of wedding photos taken in the world.
Do these reasons sound appealing to you? Plan your elopement today with PicVoyage. :)